CURRENT TRAFFIC CONDITIONS
CALTRANS HIGHWAY ADVISORIES
Caltrans posts daily advisories for the following highways and freeways:
Check the California Highway Patrol (CHP) reports of traffic incidents in Ventura and Santa Barbara Counties:
More Info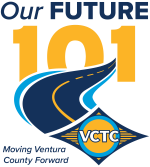 VCTC has embarked on a critical project to improve a 27-mile segment of U.S. 101 between Thousand Oaks and Ventura. Our goal is to reduce traffic congestion, improve mobility and minimize environmental impacts for everyone who travels this vital route.
Learn more at OurFuture101.org.
For up-to-date information on highway projects in Caltrans's District 7, which includes Ventura and Los Angeles Counties.
Click Here
PROJECTS FUNDED BY YOUR GAS TAX DOLLARS