NEW! BIKING VENTURA COUNTY: ROUTES & TIPS FOR BEGINNERS & FAMILIES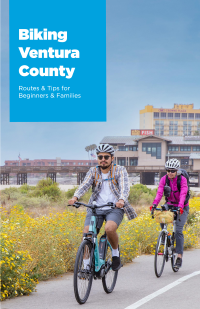 This guide is intended to encourage and support bicycle transportation and recreation by beginners and families. It features shared-use paths and separated bike lanes (Class I or IV), along with some bike lanes (Class II or III) that are relatively easy to ride, connect to shared-use paths, make a complete route, and/or access interesting or important destinations. Click here to download a PDF version of the booklet. To request a printed copy, email Andrew Kent, GIS/Planning Analyst, at akent@goventura.org.
MAY IS BIKE MONTH! PLEDGE TO BIKE SAFELY DURING THIS MONTH AND ENTER TO WIN ONE OF SIX $250 GIFT CARDS TO AMAZON.
Click here to pledge
Class 1
Path is separate from automobile traffic
Class 2
On-street painted bike lane
Class 3
On-street bike route designated by signs
VCTC updated the countywide Bikeways Map in 2021. You can find printed copies of the map at local bike shops and events where VCTC has a presence. Or to request a printed copy, email Andrew Kent, GIS/Planning Analyst, at akent@goventura.org.
Visit Cycle California Coast to find out about great rides along the coast of Santa Barbara and Ventura Counties.  Detailed route information and tips from local riders will help you enjoy a great cycling destination.
BRINGING YOUR BIKE ON TRANSIT
Most Southern California transit operators offer special on-board storage compartments for bicycles as well as bike racks and locking facilities at stops and stations.
Local transit operators throughout Ventura County provide community-based fixed-route and dial-a-ride services. Click on the website link or call the number listed for information about routes, fares, and schedules.
VCTC BIKEWAYS ANDROID APP
REQUEST BIKE PATH MAINTENANCE
Use the table below to report maintenance issues on local roads, highways and bike trails, including problems such as potholes, debris, protruding branches, missing signs, or other issues affecting safety.
The National Highway Traffic Safety Administration (nhtsa.gov) provides valuable information about bicycle safety for both children and adults. The NHTSA has identified several keys to operating a bicycle safely, including:
• Wear a helmet.
• Be predictable.
• Share the road.
• Ride a bike that fits you.
• Be visible.
• Stay focused and alert.
• Follow the rules of the road.
• Plan your route.
Download the NHTSA's flyer Bike Safety for more information.