Freeway Service Patrol assists thousands of motorists in first year
Since launching a year ago, the Ventura County Transportation Commission's Freeway Service Patrol (FSP) and a team of helpful drivers have assisted thousands of motorists along Ventura County highways.
FSP placed roaming tow trucks along three segments of the U.S. 101 and SR-118 freeways, with the goal of quickly getting disabled vehicles moving again at no cost to the drivers.
Managers of the FSP program provided an update about the new service and recognized the first Driver of the Year during the Commission's regular meeting on Friday, March 4.
Since its launch in March 2021, the program has logged more than 3,000 motorist assists, including providing direct assistance to motorists more than 2,000 times.
During peak traffic hours, trucks roam along three segments of highways: US-101 from the Ventura County/Los Angeles County line to Camarillo Springs Road; US-101 from Camarillo Springs Road to Rice Avenue; and CA-118 from Ventura/Los Angeles County line to State Route 23 (Rocky Peak).
Services include changing a flat tire, providing a gallon of fuel, and taping leaky hoses. If the FSP driver cannot get a vehicle running quickly, the vehicle can be towed to a safe location off the freeway at no charge, where the motorist can wait for additional assistance.
The most frequent assistance types were fixing flat tires (499), addressing mechanical issues (495) and providing fuel to motorists who had run out (257).
FSP drivers were able to quickly restart vehicles in 75% of cases and the remaining 25% of vehicles were towed to a safe location off the highway.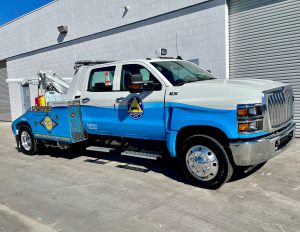 Driver a 'guardian angel'
Platinum Tow & Transport Inc. of Camarillo is the tow truck contractor for the program. At the meeting, VCTC recognized Platinum employee and FSP driver Richard Henderson as the 2021 Driver of the Year for his outstanding service.
Motorists who accept FSP assistance are invited to fill out a customer survey. Of the positive responses received by VCTC, 30% percent were about Henderson. One customer wrote that he was like "an angel from the heavens" while another said Henderson made a tire blowout "a pleasant experience."
In accepting the award via Zoom, Henderson told the Commission that being stranded on the freeway can be a frightening experience, so he tries to bring comfort to drivers while repairing their vehicles.
Motorist Crystal Stratton told the Commission about the night she was traveling on U.S. 101 near Camarillo when her car suddenly quit. She pulled over, her car straddling the freeway shoulder and the fast lane, leaving her "terrified." An FSP driver soon arrived and towed her car to a safe location. Stratton told the Commission the driver was like a "guardian angel."
"The service was phenomenal," she said.
"We knew when we started this program that it provides an essential public service," said Tony Trembley, VCTC chair and Camarillo City Council member. "In its first year alone, the Freeway Service Patrol program has kept thousands of motorists safe and traffic flowing smoothly."
FSP service could be coming to more miles of Ventura County highways soon. In the next year, VCTC will consider expanding the service along U.S. 101 through Oxnard and Ventura.
"The FSP program provides an invaluable service to Ventura County's motorists, providing critical assistance in situations that are often very stressful," said VCTC Executive Director Martin Erickson. "It has become an integral component of VCTC's mission to keep Ventura County moving."
ABOUT FREEWAY SERVICE PATROL
Freeway Service Patrol (FSP) a joint program of the California Department of Transportation, the California Highway Patrol and Ventura County Service Authority for Freeway Emergencies (SAFE). The local SAFE contracts with tow contractors to provide the FSP service. CHP provides daily oversight and direction to the contractor and their drivers. Caltrans provides 75% of program funding. Local matching funds come from a $1 annual fee on vehicles registered in Ventura County. In December 2019, VCTC approved a resolution to provide 25% of matching funds for the program.
Learn more about the program at goventura.org/fsp.